Jelutung (Dyera polyphylla) agroforestry on drained peatlands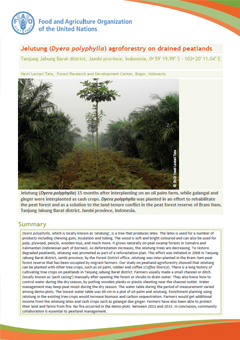 Dyera polyphylla, which is locally known as 'Jelutung', is a tree that produces latex. The latex is used for a number of products including chewing gum, insulation and tubing. The wood is soft and bright coloured and can also be used for pulp, plywood, pencils, wooden toys, and much more. It grows naturally on peat swamp forests in Sumatra and Kalimantan (Indonesian part of Borneo). As deforestation increases, the Jelutung trees are decreasing. To restore degraded peatlands, Jelutung was promoted as part of a reforestation plan.
This effort was initiated in 2009 in Tanjung Jabung Barat district, Jambi province, by the Forest District office. Jelutung was inter-planted in the Bram Itam peat forest reserve that has been occupied by migrant farmers. Our study on peatland agroforestry showed that Jelutung can be planted with other tree crops, such as oil palm, rubber and coffee (Coffea liberica). There is a long history of cultivating tree crops on peatlands in Tanjung Jabung Barat district. Farmers usually made a small channel or ditch (locally known as 'parit cacing') manually after opening the forest or shrubs to drain water. They also know how to control water during the dry season, by putting wooden planks or plastic sheeting near the channel outlet. Water management may keep peat moist during the dry season.
The water table during the period of measurement varied among demo-plots. The lowest water table was 89 cm in a plot of oil-palm and Jelutung. Enrichment planting using Jelutung in the existing tree crops would increase biomass and carbon sequestration. Farmers would get additional income from the Jelutung latex and cash crops such as galangal dan ginger. Farmers have also been able to protect their land and farms from fire. No fire occurred in the demo-plots between 2013 and 2015. In conclusion, community collaboration is essential to peatland management.
Topic: agroforestry; Dyera; peatlands; Sumatra; Borneo; Indonesia; reforestation;
Pages: 6 p.
Publisher: FAO
PublicationYear: 2016