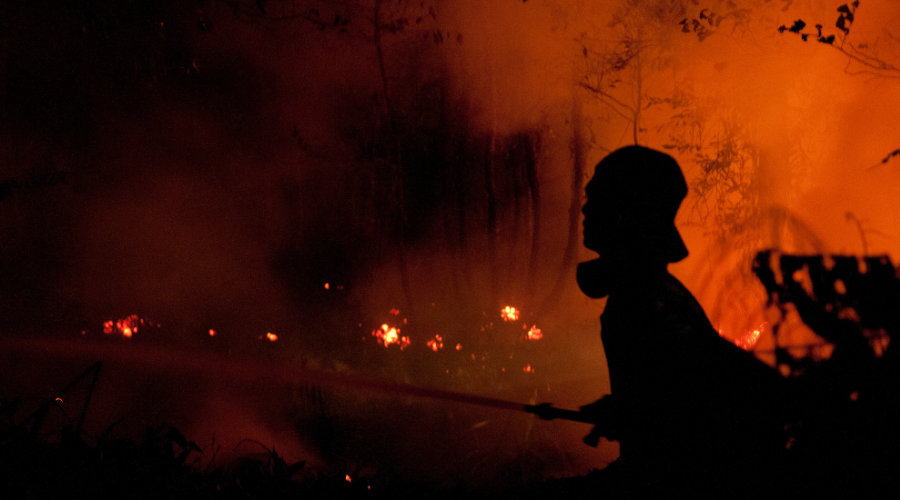 Indonesia's severe wildfires in 2015 rang international alarm bells. More than 2.6 million hectares of forest, peat, and other land were burned — an area 4.5 times the size of the island of Bali, according to the World Bank.
The fires released a massive amount of carbon and toxic haze, causing economic losses valued at more than $16 billion, the Bank said. In a one month period, daily emissions exceeded the emissions from the entire U.S. economy – more than 15.95 million tons of carbon dioxide emissions a day.
Since then, Indonesia has intensified efforts to ban fire use for clearing forested peatlands for a range of uses and established the Peatland Restoration Agency (known as Badan Restorasi Gambut in Indonesia) in 2016.
Initially, Indonesia established a regulation to ban fire use for land clearing in 2009 with the introduction of the Environmental Protection and Management law, and later in 2014 through a second, complementary law. This legislation signaled a clamp down on the use of burning techniques for cultivating such commodities as palm oil, maize and rice.
A study conducted in the province of Riau by the Forestry and Environment Research, Development and Innovation Agency (FOERDIA) of the Ministry of Environment and Forestry (MOEF) entitled Productivity of Farming Systems on Peat Land: Burning and Un- Burning Methods in Land Preparation, revealed that land prepared without first burning off vegetation is less productive.
FOERDIA conducted research into farmers who cultivated peatlands mostly for oil palm, rubber, corn, rice and other food crops.
Oil palm yield in burned peatlands was found to be roughly 29.3 percent greater than those that were not. The average production of oil palm cultivated in burned peatlands was 13.3 tons per hectare a year. In peatlands that were not, yield was only 9.4 tons per hectare a year. Rubber tree yields were found to decrease on average by 46 percent if the land was not burned. Corn yield disparities were even worse.
"Some farmers are unwilling to cultivate corn without burning since the yield will drop sharply and produce only a third or a quarter," said Murniati, a scientist with FOERDIA.
Additionally, the study found that burning led to increased soil fertility in the peatlands, while reducing acidity, contributing to higher yields. Higher yields led many farmers to use fires to clear land, regardless of prohibitive laws. Of the study participants, only 49.3 percent stopped burning land, while 45.2 percent of respondents continue and 5.5 percent said they would give up on farming as they did not see any alternative to burning.
"They were afraid to use the burning techniques, but they don't have enough money to finance the no-burning techniques," said Murniati, explaining that farmers are afraid of penalties but feel they have no choice but to face the risk.
Alternative methods
Is it possible for local communities to thrive while conserving peatlands? Finding other livelihood options might be key, according to Dede Rohadi and Herry Purnomo, sientists with the Center for International Forestry Research (CIFOR) currently working with MOEF and several partners to find solutions. The Haze Free Sustainable Livelihoods project led by CIFOR, MOEF and the University of Lancang Kuning in Riau aims to find alternatives for farmers who cultivate crops in the peatlands.
"We try to empower communities so they can maximize the existing livelihood potentials in their village," said Dede Rohadi, CIFOR scientist and project team leader.
Some villages can cultivate honey, develop fisheries and grow food crops such as chili peppers and pineapples.
"People already do that for a living, but we need to give them appropriate training and capacity building," Rohadi added. The Haze Free Sustainable Livelihoods Project will provide sound evidence and options to further efforts to preserve peatlands through the Sustainable Management of Peatland Ecosystems in Indonesia project, led by MOEF.
In addition to the Haze-free Sustainable Livelihood project, CIFOR is currently implementing the Community-based Fire Prevention and Peatland Restoration project in Riau with Riau University, local government, communities and the private sector.
"The farmers are rational. They are willing to switch gears if there are better options to support their livelihoods," said Purnomo, who leads the project.
For example, Akhmad Tamanuruddin, known as Taman, a farmer in Palangka Raya, in Kalimantan on the island of Borneo, cultivates various commodities on peatlands without burning the land. He has become a pioneer of sustainable agriculture and trained hundreds of farmers throughout Indonesia. By adding a mix of fertile soil, dolomite and manure to his land, Taman is able to plant a variety of crops, including corn, chili and vegetables. Instead of burning off the weeds on his land, he simply use herbicides and lets them decompose as natural fertilizer, Purnomo said.
He recognizes that this method may initially seem more expensive, but over the long term it saves money. Additionally, there are environmental benefits. Although burning more resistant vegetation is a less expensive and easier solution, it can strip nutrient levels in the soil and spoil the peatlands in the long run.
"I can keep my land fertile and I'm able to work regardless the season," Taman told Forests News on the sidelines of the International Tropical Peatland Center launch in October. "But my
neighbor who uses the burning method has difficulties during the rainy season because their land becomes a swamp."
However, these farmers need support since this method requires more resources. "At least we need proper road and bridges in our village, to cut expenses on distribution. It can help us big time," Taman added.
The latest commitment from the governments of Indonesia, Democratic Republic of the Congo and Republic of the Congo, to establish the International Tropical Peatland Center (ITPC) shows a promise for peatland preservation efforts. ITPC, which is currently based at CIFOR in Bogor, near Indonesia's capital Jakarta, provides valuable opportunities for cooperation in the global south to ensure that policy makers, practitioners and communities have access to sound, credible and legitimate information, analyses, and all other tools needed to design and implement conservation and sustainable management of tropical peatlands.