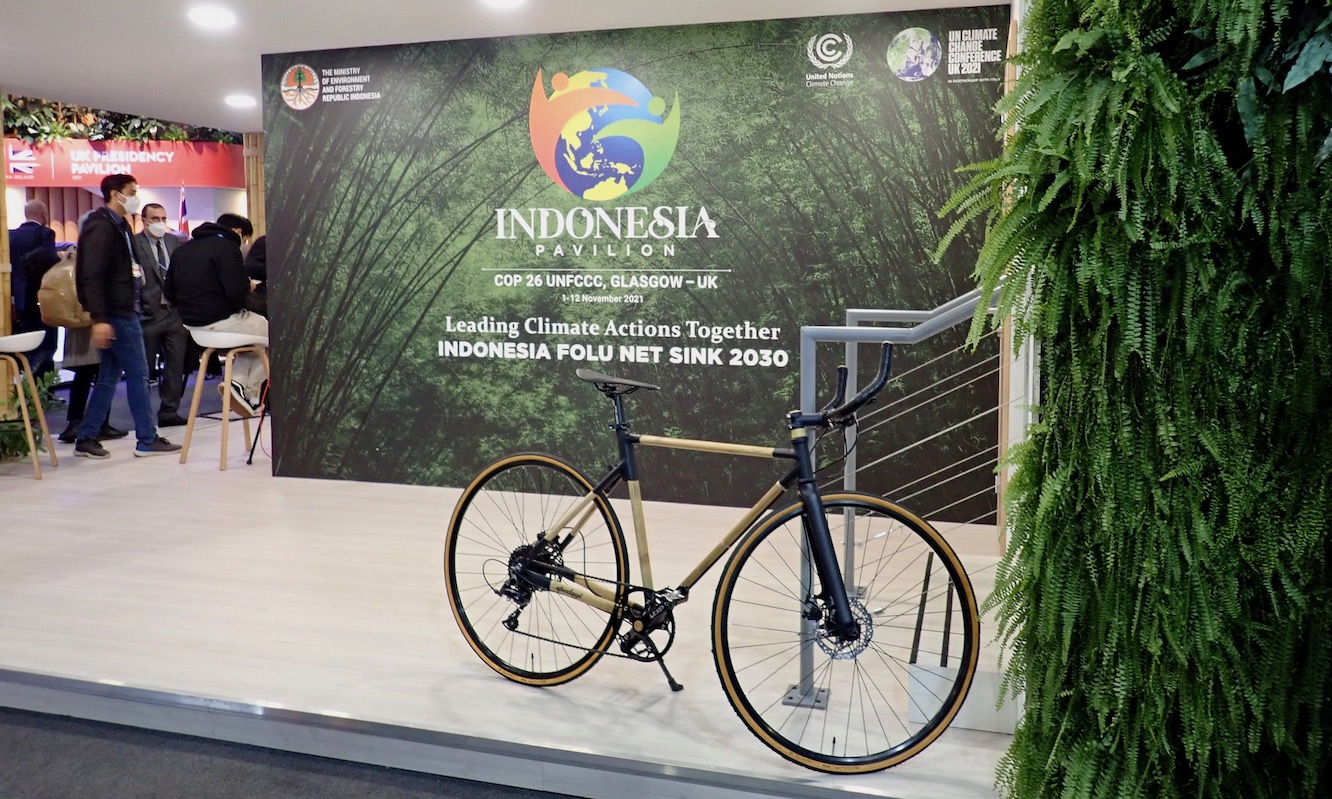 Although draining tropical peatland areas for agricultural purposes, commercial forestry and fuel is common, the practice leads to high levels of greenhouse gas emissions — particularly carbon dioxide.
The heavily vegetated land is often cleared by burning, which generates even more emissions, particularly in dry conditions when fires become uncontrollable.
Land subsidence is also a problem when peatlands, which are also known as bogs, mires, moors or muskegs, are drained.
Daniel Murdiyarso, a principal scientist at the Center for International Forestry Research and World Agroforestry (CIFOR-ICRAF), shared some recommendations regarding rewetting drained peatlands in a presentation on the sidelines of the COP26 climate summit, which was hosted by the International Tropical Peatlands Center (ITPC) at the Indonesia Pavilion.
The ITPC, which is headquartered at CIFOR-ICRAF on the outskirts of Jakarta in Bogor, Indonesia, was launched in 2018, and includes Indonesia, Republic of Congo, Democratic Republic of Congo and Peru.
Rewetting is considered vital because a third of surface soil carbon and 10 percent of global freshwater resources worldwide are stored in peatlands, which means they play a key role in curbing emissions and meeting U.N. Paris Agreement targets aimed at keeping post-industrial era global warming in check.
Carbon dioxide is released as soil organic matter and plant litter decompose. It is known as soil heterotrophic respiration. Scientists are now trying to determine the most efficient means of rewetting and managing these lands.
Elevating or increasing the level of water tables is one method, but the many variables and high cost of blocking canals — which are created to hold drained water — are yet to be determined, Murdiyarso said.
Monitoring ground water levels reveals that it is possible to predict when levels should be increased, particularly to avoid fires. Rewetting can also help reduce ground subsidence rates.
"Tropical peatlands are physically unique, but they can be characterized," he said. "Through the ITPC, we should be able to further explore emerging opportunities concerning the wise use and sustainability of peatlands."
In his presentation, Hans Joosten, a professor in the Peatlands Studies and Paleoecology Group at the University of Greifswald in Germany affirmed the value of the ITPC as a knowledge platform.
"I would like to stress the word knowledge — knowledge is not only science — knowledge is about wisdom and goes much further than only talking about facts," he said. "We must have such a platform to exchange ideas and information for the very specific purpose of solving problems, we have large problems, we will have even more and we have to address these problems."
The ITPC will become a global knowledge platform, said Dianna Kopansky, coordinator of the Global Peatlands Initiative in the Freshwater, Land and Climate Branch at the U.N. Environment Programme.
"We're 46 partners strong," Kopansky said. "We've really been working hard to bring together international experts, practitioners, people of business, and also, of course, our clients, which are the governments, to really pursue the conservation, restoration and sustainable management events."
Haruni Krisnawati, a principal researcher with Indonesia's Ministry of Environment and Forestry who is lead coordinator of ITPC, described progress on a new ITPC knowledge platform website.
"It will be a 'go-to' place for information on peatlands and provide space for users to browse, search and also to contribute to a variety of knowledge products," she said.
In another session, experts described Indonesia's extensive experience and multitude of lessons learned from peatlands management.
The ITPC is a valuable platform for international, multi-stakeholder and multi-donor South–South cooperation, Krisnawati said. The Center, which is coordinated by the Ministry of Environment and Forestry of the Republic of Indonesia, with support from CIFOR and Global Peatlands Initiative of the U.N. Environment Programme, and the U.N. Food and Agriculture Organization, as coordinating partners.
"The principles are true cross-sectoral collaboration and integration, building a resilient and holistic platform for science, policy and practice, attracting the best minds working on tropical peatlands research and practice," she added.
SPM Budisusanti, director for Peatland Degradation Control in the Indonesian Ministry of Environment and Forestry, said that Indonesia has the largest area of tropical peatland in the world: 24.66 million hectares managed by 865 peat hydrological units, holding 36 percent of the world's tropical peatlands.
Many laws, regulations and guidelines have been introduced. "We have produced detailed maps of peatland extent for canal blocking, water management, peat domes, village management units and monitoring," she said. 
---
Read more: ASEAN peatlands: critical in mitigating the climate crisis
---
As such, Indonesia's history of peat management can serve as an important cautionary tale for how the governments of the Democratic Republic of the Congo, Republic of the Congo, and Republic of Peru — members of the ITPC — as they strategize over their peatland management.
In another session hosted by the Indonesia Pavilion at COP26, Alue Dohong, vice-minister, Indonesian Ministry of Environment and Forestry, described how the ITPC was formed in 2018, explaining that it has been an important platform for South–South cooperation over the last three years while also contributing to Indonesia's national agenda, especially regarding climate ambition.
"We're building up a centre of excellence to share knowledge about managing tropical peatlands: researchers, scientists, practitioners, policymakers and others come together to work on peatland issues," Dohong said.
InPeru, peatlands are not exploited but protected, and the strategy is to ensure local communities benefit, said José Alvarez Alonso, director-general of Biological Diversity in Peru's Ministry of Environment.
Peatlands in Peru are found in Amazonia, the Andes and coastal areas, including in the form of palm, hydromorphic and open swamps, wetlands, reed beds, and mangrove swamps.
"We need a strategy to manage the peat outside of protected areas," Alvarez said, adding that collaboration and exchange of information between the four nations about better practices and management, knowledge and strategies for funding should engage all stakeholders — public and private — and strengthen the capacity of peatland monitoring."
Jean Jacques Bambuta, national coordinator and focal point for peatland, Ministry of Environment and Sustainable Development, DRC noted the large number of national parks in the country, the presence of REDD+ schemes and other activities, especially restoration, to counter degradation of peatlands.
Franziska Tanneberger, a researcher at the Institute of Botany and Landscape Ecology at Greifswald University and co-director of the Greifswald Mire Centre in Germany, which co-hosted the Peatland Pavilion during COP26, said Greifswald is involved in policies and practical work on peatlands and is the only German university with a chair of peatland sciences.
"We've studied peat formation in Southeast Asia, peatland ecology and vegetation in Peru and we host the global peatland database that produced the global peatland map," she said. "Experts estimate half of Europe's peatlands are not properly reported so the problems extend beyond the Global South."
Indonesia is the frontrunner for restoration, Tanneberger added. "It has rewetted in the last few years 10 times the area that Europe has rewetted in all of history. If Indonesia can do it, why not Germany?"
In Indonesia's Riau and South Sumatra provinces 7,000 hectares of plantations have been retired to become conservation areas, said Elim Sribata, chief sustainability officer at the Sustainability and Stakeholder Engagement Division, Asia Pulp and Paper, Sinar Mas Forestry.
This effort included improving canal blocks and monitoring water to zero ground level and the return of native species.
"We applied natural regeneration after clearing acacia trees and rewetting, but there have been many challenges," Sribata said. "It's important to select the right species and seedlings for site conditions. Restoration is a long process before there are viewable results."
The Congo Basin is at the beginning compared to Indonesia, said Simon Lewis of the Congo Peat Project and chair in Global Change Science, School of Geography, University of Leeds, England.
"We mapped the peat and vegetation using remote sensing and computer analysis to produce 'peatland probability' maps," Lewis said. "The Congo is the world's largest contiguous area of peatland, about a quarter of the world's tropical peat and three years' worth of anthropogenic carbon emissions.
Potential threats exist in the basin from logging, mining and oil palm.
"We want to avoid the negative outcomes seen in other countries," he added. "We have a large, multi-disciplinary, cross-border team and we now understand the effects of climate change on the peatlands and vice versa. But we need much greater investment in Congolese scientists and scientific infrastructure so that the analyses we are now doing in the UK can be done in-country."