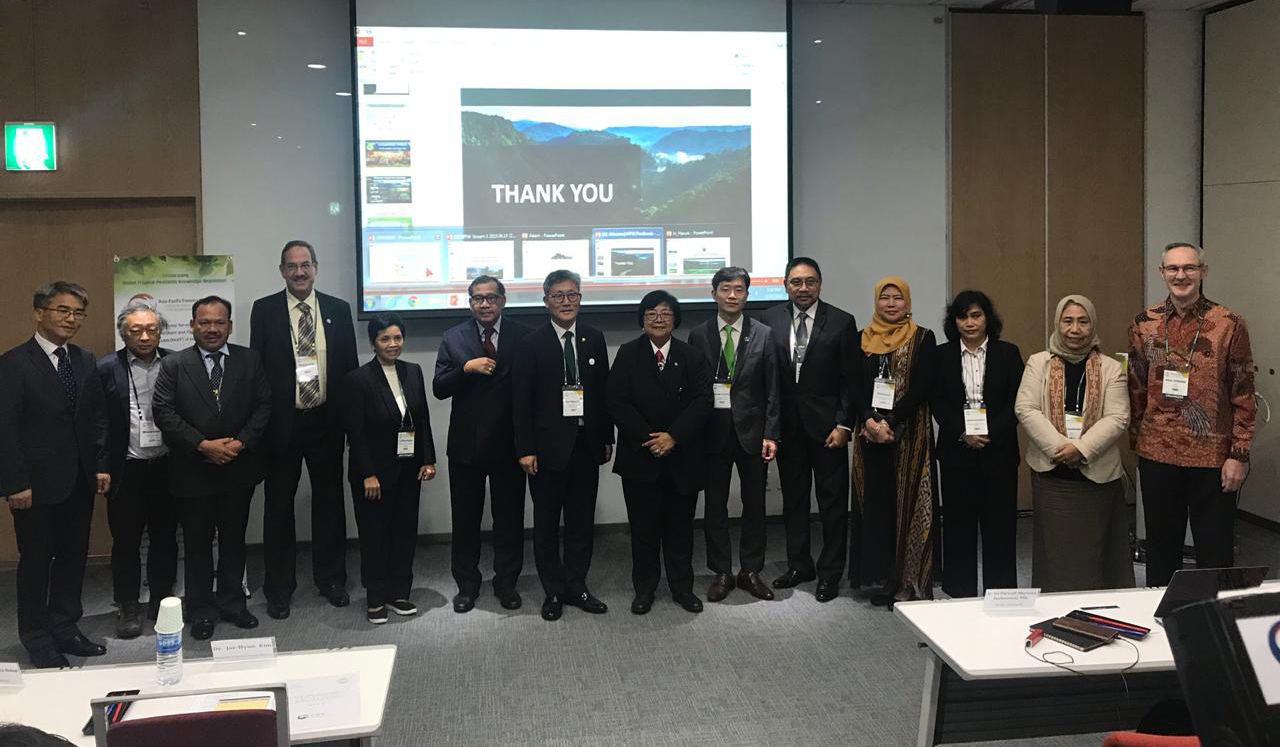 Indonesia's Minister of Environment and Forestry Siti Nurbaya reiterated the country's commitment in sustainable management of forest and forestry. New permits on forest and peatland clearing will not be issued as part of this commitment.
"Moratorium (on new permits on forests and peatlands) policy is one of the landscape approach in Indonesia's forest management, viewing interaction between ecosystem and people as an important unity," the Minister said at the opening day of the Asia Pacific Forestry Week (APFW) in Incheon, Republic of Korea, 18 June 2019. The five-day event was co organized by the Korea Forest Service and the Food and Agriculture Organization of the United Nations.
The temporary ban on new permits was introduced in 2011 in an effort to reduce emissions from fires caused by deforestation. The two-year moratorium covering more than 60 million hectares of primary forests and peatlands was renewed regularly, the minister said.
Minister Nurbaya said that corrective efforts currently being implemented include conflict resolution, prevention of forest fire, law enforcement and increasing the welfare of community around forests. This approach is in line with Indonesia's social forestry policy to restore forest function and at the same time serves as a medium of peace and community welfare. Under the social forestry program, forest-dependent communities will be given access to around 12.7 million hectares of forests through social forestry permits.
Peatlands under pressure
Tropical peatlands face a range of pressure with the increasing need for land, in most cases for the development of plantations. Conflict over peatlands often leads to forest and land fires that contribute significantly to damage to the ecosystem and reduce its biodiversity. The Indonesian government strives to achieve a win-win solution, with conservation goals achieved while maintaining its economic value.
Covering only about three percent of the earth's land area, global peatlands contain 30% of soil carbon, which make them the world's largest carbon storage. Indonesia, as the one of three countries with tropical peatlands play a significant role in reducing global warming by reducing emissions from this ecosystem.
Mapping global alliances
One of the objectives of the event was to map global alliances on conserving peatlands, particularly tropical peatlands and encouraging potential partners to synergize their program towards ITPC's work.
APFW with the theme "Encouraging Global Tropical Peatlands Knowledge Sharing", discussed the role of forestry in mitigating climate change and achieving sustainable development and emission reduction goals. Korea Forest Service (KFS), as one co-organizer together with the UN FAO, expressed their genuine support for Indonesia's efforts to take the lead in the successful implementation of the Global Peatland Initiative.
As Indonesia's partner in the field of forestry, the KFS said that they are ready to develop further collaboration with the International Tropical Peatland Center (ITPC) and play a significant role in the restoration of tropical peatlands. The ITPC was established and declared in Jakarta, 30 October 20198.
Indonesia recognize the need for sound, credible and legitimate information, analyses, and tools to design and implement conservation and sustainable management of tropical peatlands. Therefore, the ITPC should seek to provide effective, cost-efficient and equitable solutions more readily available.