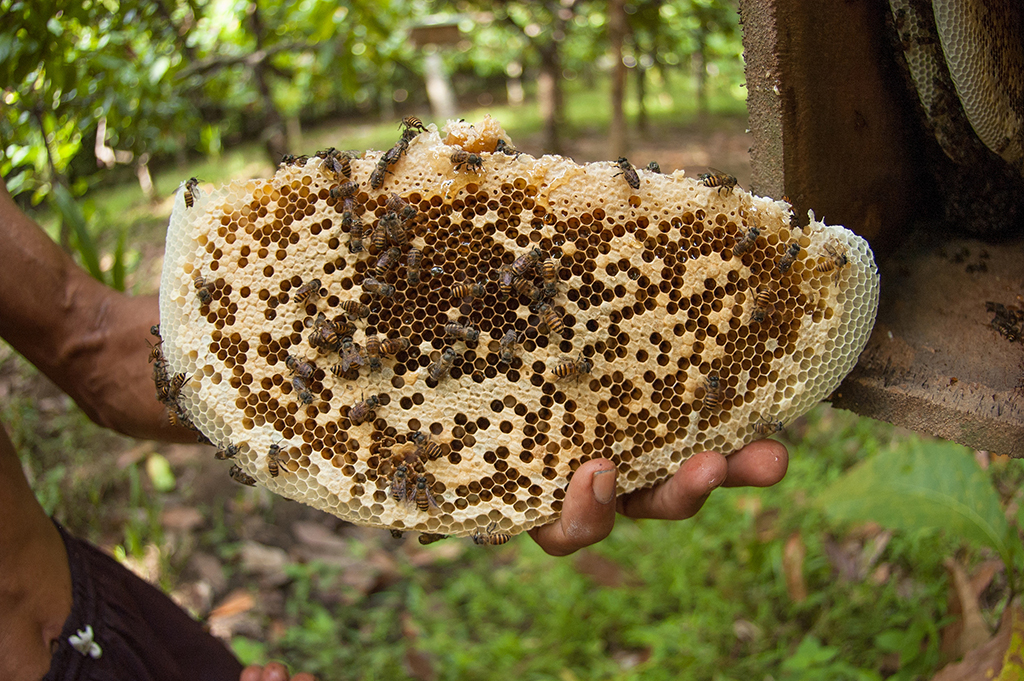 Indonesia – Luring queen bees may become a significant enterprise for many residents of the Indonesian province of Riau. Honey bee colonies cannot thrive without a queen, and many villagers are now determined to attract swarms of bees to cultivate them for a living.
As the government of Indonesia intensifies the efforts to ban fire use for land clearing to protect peatlands, local communities need to find alternative sustainable income-earning options. A team of scientists with the Center for International Forestry Research (CIFOR) and Indonesia's Ministry of Environment and Forestry are currently striving to empower local communities in nine villages across three districts in Riau province through a project known as "Haze Free Sustainable Livelihoods." The aim is to find existing livelihood potential in the villages and provide capacity building to residents. Evidence gathered from the project will then support the Sustainable Management of Peatland Ecosystem in Indonesia project, led by the Ministry of Environment and Forestry.
According to a baseline study conducted between 2016 and 2018 in the district of Pelalawan, Indragiri Hulu and Indragiri Hilir, Riau, honey is already an important commodity in the villages. Many residents gather wild honey from sialang trees (Koompassia excels) every three months.
"We can get 1.2 tons of honey from a hundred nests on one tree that we can sell at IDR 75,000 ($5) per kilogram," said Fahrudin, head of Teluk Kabung Village in Indragiri Hilir district. Thus, honey hunters can get IDR 90 million per harvest at almost no cost. Most of the honey is then exported to Malaysia. The problem is that only a few experienced residents are capable—and willing—to take the risk of climbing the 50 meter tall sialang trees to harvest honey traditionally.
To scale up this commodity, experts from the Haze Free Sustainable Livelihoods project provide training on safe and sustainable methods to harvest the honey. They also train residents to develop honey-bee farms, cultivating a stingless bee species—Trigona—that naturally inhabit peatlands in Riau.
"A lot more people can benefit from it since they can develop honey bee farms in the backyard," said Dede Rohadi, project leader and scientist affiliated to Indonesia's Forestry and Environmental Research Development and Innovation Agency (FOERDIA) and CIFOR.
Local area residents were trained to use smoke from the coconut trunk to lure queen bees. Once the queen is captured, a colony usually follows. With abundant trees to use as nectar resources, the three districts are ideal for honey farming. "It's a win-win," Rohadi said. "Honey farming will be an incentive to plant more trees to feed the bees and it's good for peatlands." The Haze Free Sustainable Livelihoods project also identified several other livelihood alternatives in the area. Some villages such as Teluk Meranti in Pelalawan District have opportunities to engage in fisheries and tourism.
Bono—tidal bores in Kampar River that typically reach 6 meters in height and move at 40 kilometers per hour attracts surfers from around the world. The tide also brings an abundance of fish to the waterways in surrounding villages. During the high season, despite the abundance of fish stock, it is often abandoned. As a result, the project offers training on fish processing.
"To succeed, we also need to channel the products to consumers," Rohadi said.
Aside from the Haze-free Sustainable Livelihoods project, CIFOR is currently conducting a Community-based Fire Prevention and Peatland Restoration project in Riau with Universitas Riau, local government, communities and the private sector. The project is aimed at increasing the awareness of stakeholders on the need to implement participatory approaches on fire prevention and restoration efforts.
"The residents are willing to switch gears if there are better options to support their livelihood," said Herry Purnomo, CIFOR scientist and project team leader.