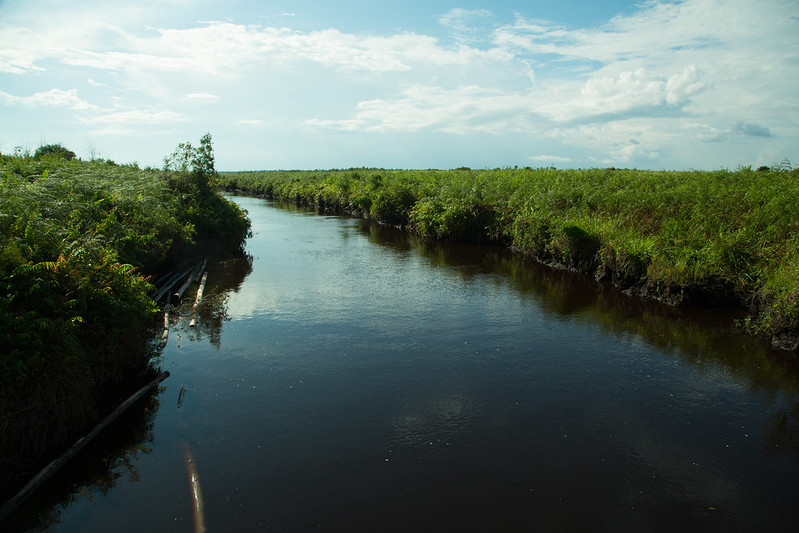 Across the globe, demand for energy is growing – and it's tipped to increase by almost 50% over the coming three decades. But as we work to phase out fossil fuel use and mitigate climate change, the pressure is on to find alternative, sustainable and clean energy sources that don't put further pressure on the world's ecosystems, or its limited supply of arable land.
Indonesia is home to almost a quarter of the planet's tropical peatlands – 95% of which are to some extent degraded. There, scientists and policymakers have been exploring options for growing bioenergy crops on degraded peatlands, which could serve the triple function of restoring ecosystems whilst providing clean energy and food production. On 4 May 2022, at the fifteenth World Forestry Congress (WFC) in Seoul, Republic of Korea, some of these experts gathered for a session convened by the International Tropical Peatlands Center (ITPC) to share experiences and lessons learned from the Indonesian context.
Ari Sudijanto, Director General of the Agency for Standardization of Environment and Forestry Instruments in Indonesia's Ministry of Environment and Forestry, outlined in his highly influential opening remarks the particular demand for renewable energy in Indonesia. The country has pledged to reduce its projected greenhouse gas (GHG) emissions by 29% using domestic resources, and up to 41% with international support, by 2030, and energy sector reform is a key part of this plan, with an aim for renewables to meet 23% of the national energy mix by 2025, and 31% by 2050.
"However, expansion of plantations for energy production could trigger competition with other land uses, such as for food production and biodiversity conservation," Sudijanto said. "To avoid such competition and diversify production, degraded and under-utilized lands – including degraded peatlands – have been identified as potential areas for higher energy production," Sudijanto said. "Bioenergy from these lands has the potential to meet growing energy demands, while also contributing to emission reduction and other ecosystem services such as clean water and biodiversity conservation."
Indroyono Soesilo, the chairman of the Association of Indonesia Forest Concession Holders (APHI), then shared some of his organization's experiences enabling microfinancing for bioenergy plantations in peatlands. He cited the example of a member company in West Kalimantan, which is planting Gamal (Gliricidia sepium) on degraded peatlands for biomass production. "From there, we will produce local wood chips that can be used as a feedstock for our power plant in Indonesia: that will help us to achieve our target of providing biomass energy at the same time as preserving our peatland," he said.
Budi Leksono, a senior scientist at Indonesia's National Research and Innovation Agency (BRIN), then expanded on the prospect of bioenergy plantations to support the country's restoration goals. The Ministry of Environment and Forestry recently launched an initiative to restore 14 million hectares of degraded land – including about two million hectares of degraded peatland – by 2030. However, said Leksono, "there is a knowledge gap on the most adaptable bioenergy crops for these degraded lands." He took audience members through some of the latest studies in this area, and species that hold high potential for the task, such as nyamplung or tamanu tree (Calophyllum inophyllum). "Nyamplung is promising for restoring peatlands and renewable biofuel," he said. "However, further research is needed to examine the potential ecosystem services associated with growing nyamplung on degraded peatland, and adoption for upscaling this model."
Mihyun Seol, a scientist at the Center for International Forestry Research then took the focus to the environmental and social benefits of bioenergy tree production in degraded peatlands. "Peatlands provide food, clean water, biodiversity and other benefits to people; they also prevent droughts, floods, and intrusion by salt water," she said. "They host endangered species like orangutans and the Sumatran tiger; they're very important for biodiversity." She also spoke about the outsize carbon sequestration potential of intact peatlands, and the vast climate and economic costs of their degradation – especially when wildfire is involved. Further, she shared some of the promising results her research team have gained through planting nyamplung, pongamia (Pongamia pinnata), and bamboo for bioenergy production and restoration, in various degraded peatland landscapes across the Indonesian archipelago.
Sungho Choi, the Program Officer for the Implementation and Management Cooperation & Project Division of the Asian Forest Cooperation Organization (AFoCO), then shared expertise on how to manage peatland restoration for bioenergy, based on AFoCO's Central Kalimantan project on that topic. "It is very important to find suitable species based on the site and its characteristics," he said, "and to research the different issues that have relevance locally, such as energy security, food security, climate change impacts, and poverty." He also noted the importance of developing sustainable seedling supply systems.
CIFOR Senior Scientist and bioenergy research coordinator Himlal Baral then shared insights from the new book he co-edited with Leksono and Seol, 'Bioenergy for landscape restoration and livelihoods', which draws on 14 different case studies across six years of research on the topic in the Indonesian context which are relevant to south east Asia and the tropics . For the session, he zoomed in on one promising approach – climate-smart agrosilvofishery, which seeks to maximize benefits from degraded peatlands, instead of encouraging burning and land conversion. In this approach, farmers are taught how to cultivate paddies (of crops such as sago palm) on degraded peatlands, and to plant multipurpose tree species – including for bioenergy and biomaterials – in amongst the crops. Indigenous fish species and livestock can also be introduced to such a system, and ecotourism can potentially be developed alongside. "Our next step is to scale up and scale out from the good practices from our current pilot projects," said Baral. "So we would like to work with you all here, all our Indonesia partners, to find out how to do so."
The panellists then fielded a number of questions from the floor, addressing topics such as the flowering and fruiting time for nyamplung on degraded land; best practices for planting and maintenance in these landscapes; potential certification systems; and sustainable finance mechanisms to finance new kinds of bioenergy production.
Haruni Krisnawati, the ITPC's Lead Coordinator and moderator of the session, summarized the event's key messages. "If managed appropriately, our degraded peatland can be restored for food, energy, and biomaterial production, while supporting multiple ecosystem goods services, and also supporting the national targets for energy security, climate regulation, biodiversity conservation, and more," she said. "The next challenge is scaling up from the pilot projects that have been done already, through public-private partnerships – or maybe public, private, and people partnerships."